(Update: 8:47am, Nov 20, 2020)
Although a "BTC Short" was "Considered", none was taken.
As mentioned, I only had a glance of charts 2 days ago, admitting that "I'll have to sit and analyze better".
Looks like this turned out to be another Consolidation before a higher push, making a re-visit to 20k much more of a reality now.
As I'm still not yet fully settled back into trading (but slowly adjusting and working towards sticking around finally, this time).
I'm not jumping into Longs/Buys either.
It does look quite likely that $BTC gets a good up-push today and/or over this weekend,
so I would not discourage anyone either, who can manage to observe charts closely, and even consider trades here as short-term scalps.
As I'm not watching charts all day at the moment, for my own trades, I'm mostly looking for mid-large trend change, which I can ride out for at least some days/weeks.
I did actually scalp some Altcoins, in the last 2 weeks or so. But that's all as of recent.
Otherwise, I've just been glancing at BTC every few days…
but now, I'll try to have a look at charts at least twice a day, as the markets are becoming VERY interesting.
I'll attempt to update here again, later today, or early tomorrow.
Enjoy your weekend!
---
Hello all!
I've now taken a glance at charts again, and I see that $BTC is finally showing some signs of topping-out on this large move up.
I'll have to sit and analyze better, however I'm quickly mentioning here, to give a head's up.
As you should notice from my last post,
I sat out of $BTC (exited last short) announcing that here, well in advance, before the big move up started.
So, Funds have been SAFE.
Hopefully yours as well. 🙂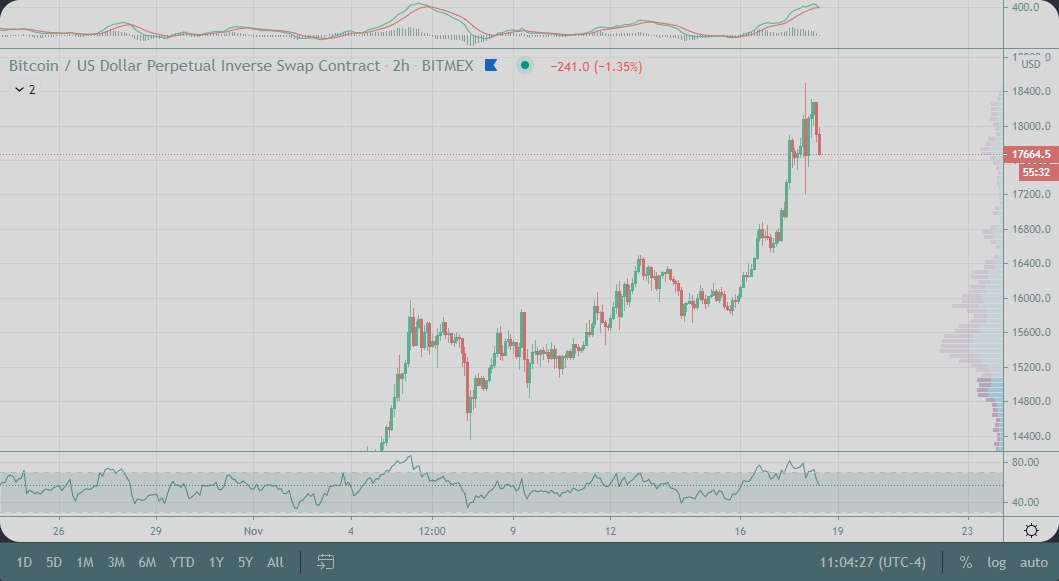 Note: I will be strongly considering moving my group updates to Telegram or Discord TEMPORARILY,
until I complete the development of my Membership site,
with timely update notifications, and many other features.
Having an unpredictable (yet good business-wise) year with Covid-19, through off my scheduled plans, and sufficient time has not yet been put into properly developing this membership site.
However, I would like to resume sharing regularly to my members,
hence I will soon move ahead with whatever most efficient, short-term method I can use, to resume posting updates to members (Telegram or Discord).